Express Your Love with a Custom Cremation Urn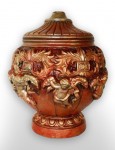 By Melody Jamali, CEO of Une Belle Vie Memorial Urns
Oftentimes, when a loved one passes away and they are cremated, you may feel pressured to make a selection quickly so that the cremation urn will be delivered as soon as possible. Sometimes this results in urn selections that are not the right fit for the deceased. The fact of the matter is you do not have a deadline to select or create your loved one's urn. Take all the time you need to make a selection that feels right. In fact, for a way to perfectly honor your family member's life, why not commission a custom cremation urn? They may take longer to receive, but in the end, you'll have a lasting memorial created just for your loved one.
Where do you start when you've decided to have an artist create a custom urn for you? How about a pen and paper? Begin brainstorming for a concept by writing down the things that described the deceased or what you loved most about them. Perhaps they were an avid crafter or maybe they enjoyed flying. Write what moves you emotionally and then send your thoughts to the artist so that they can begin designing an urn based on your ideas.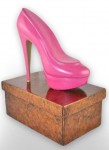 One of the big decisions you'll have to make when starting the creative process is what type of material to use. Cremation urns can be made from so many different materials. They can be made from materials as delicate as glass, which can be blown into many beautiful forms. You can also choose a traditional, durable material such as bronze and create a stately bust in your loved one's likeness.

It's important to foster a good relationship with the artist that's creating the custom urn for your loved one, since you want to make sure that your ideas are clearly expressed and they see your vision as well as you do. When you and the artist working with you understand one another, the resulting urn will be a true representation of your loved one's style and aesthetic.
What if the loved one you want to commission a custom urn for is a four-legged friend? That isn't a problem at all. An urn artist work can with you to create a lasting memorial for your favorite family pet as well. Some people decide to have fun with their pet urn and have it depict a memorable scene in their pet's life. Others want their pet urn to embody their pet's favorite activity or item, such as a baseball or a chew toy.
Whatever your thoughts are when commissioning a custom urn, for a person or a pet, a cremation urn artist is here to make certain your vision is realized through their talented hands.
About Melody
A mother of three (Eric, Tara, Taylor), Melody artfully balances family life and her professional life. Melody's entrepreneurial roots started in 1996, with other ventures leading her to her current role as CEO with Une Belle Vie Memorial Urns. Close to her heart, Une Belle Vie Memorial Urns is more than just a business to Melody, it's a dedication to her son who passed in 2009, and to all of the families going through similar challenges that the Jamalis experienced during their time of grief.
Please share your thoughts on this article
Related articles