Funeral Etiquette for Thank You Notes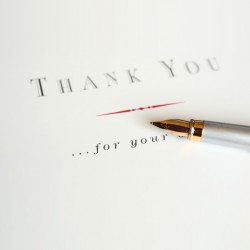 The loss of a loved one and the planning of an entire funeral from start to finish is an exhausting affair. It's not uncommon for those undergoing bereavement to feel both physically and mentally exhausted, and emotions can run through a course of highs and lows in a matter of minutes. Among all the chaos of guests arriving from out of town and navigating the financial side effects of death, it can seem impossible to find time to write funeral thank you notes.
Funeral etiquette dictates that the family of the deceased send out thank you cards in the days and weeks following the funeral. Fortunately, this isn't the time-consuming, tedious task it sounds like. Not only can you purchase pre-prepared thank you cards and send them out, but you can recruit the help of others and make it a chance to bond and share your grief.
Who Gets Funeral Thank You Cards?
There's no need to send a thank you note to everyone who comes to the funeral. In most cases, you simply need to acknowledge those who went above and beyond attendance. For example:
Those who send funeral flowers
Those who send "in lieu of" gifts such as money or a donation
Anyone who contributes to the funeral financially
Anyone who contributes to the funeral in other ways (including bringing a dish, housing out-of-town attendees, driving guests, or other physical tasks)
Pallbearers and ushers
Members of the clergy and/or the officiant of the funeral
Any singers or musicians who performed at the service
Anyone who provided the physical space for part of the funeral or service (such as a church, restaurant, or private home)
In cases of uncertainty, it's always better to send a card than to skip someone who may be struggling with substantial grief of their own.

What to Write in Funeral Thank You Cards?
As is the case with thank you cards like those sent for a wedding, all you need to include is a quick, personalized note acknowledging the unique gift. You can use pre-printed thank you cards and simply write something like:
"Thank you for the lovely flowers. ______ always loved that color of carnation."
"Your donation to means a lot to our family and to ______'s legacy."
"There is no way for us to thank you enough for opening your home and your heart to us during this difficult time."
"Your support at the funeral means a lot to us and to ________'s memory."
As long as you specifically mention the service or task provided, one to two sentences should suffice.
When Should Funeral Thank You Cards be Sent Out?
According to funeral etiquette guidelines, thank you cards should be sent no later than two to three weeks after the funeral takes place. Most people are understanding of your time constraints and the difficulty of the task, so there is no need to rush if you don't feel up to it.
You can also ask for help in sending them out. While the personalized message should be your own, there is no reason why you can't recruit the services of someone else in addressing, stamping, and mailing the thank you cards.
Please share your thoughts on this article
Related articles