How to Plan a Belated Funeral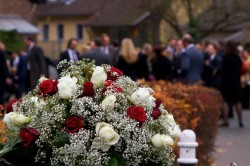 There are many reasons to delay a funeral. Maybe it's a difficult time of year for family members to get time off work or to make travel arrangements. Perhaps the deceased wished for a springtime service. Maybe you don't currently have the money to cover funeral costs.
Whatever the reasons, it's becoming more common to opt for direct cremation or direct burial immediately following death—and to hold a formal "funeral" or memorial service sometime in the future. You can wait weeks, months, or even years to do this, which gives you greater flexibility and more options when it comes to saying goodbye.
Taking Care of the Remains
While it is possible to put the body of the deceased in cold storage for weeks to up to months at a time while you wait for a good day to have a funeral, this isn't a cost-effective or particularly palatable option for most families. If you are unable to hold a memorial service soon after death occurs, it's usually best to handle the actual interment right away and save the more formal ceremony for later.
This is especially true if you are opting for cremation. Because there is no time limit on how long you can keep cremated remains, it's easy to store the ashes in an urn or box until you are ready to dispose of them.

You can also hold a later graveside service or memorial party if the deceased was traditionally buried. Although you won't have a grave opening or watch the casket being lowered, you can invite friends and relatives to visit the headstone and pay their respects at any time after the funeral.
Planning the Memorial Party
The most important part of planning a memorial service or party—regardless of when you hold it—is to pick a date and venue. Because you have time on your side for a belated funeral, you can find a time that works for everyone and hold the service somewhere meaningful. Depending on the level of formality you want, churches, funeral homes, restaurants, private houses, and even parks can be used for this purpose.
From there, the process is fairly similar to planning a wedding or large family reunion.
Send Out Invitations: This doesn't mean you have to get actual printed invites—rather, you need to ensure that everyone is aware of the time frame. Put a notification in the obituary that the service will be delayed. When you are ready, make phone calls, send out emails, put a notice on social media boards, or otherwise personally contact each person invited.
Determine Dress Code: Is everyone going to wear black and participate in a formal ceremony? Gather at the bar in the deceased's favorite sports team paraphernalia? Dress casually but opt for funeral flowers? Be sure and let everyone know the kind of service that will be held.
Provide Food and/or Drink: Food isn't always required at a funeral, but if you're holding a belated service, it's probably a good idea to include some kind of refreshments. Because you won't be doing the entire funeral from start to finish, you might need the extra time for chatting and sharing with others.
Keep all the Traditions—Or Not: You can have a eulogy and funeral flowers and a religious official in attendance. You can read hymns or hire a funeral singer. Or you can skip all these and simply get together with the people you love. One of the best things about a delayed funeral is that many of the traditions aren't needed or required, so you can create a gathering that's focused on what's really important: the person you loved and lost.
A belated funeral is still very much a funeral, and there's no limit to what you can do. Plan ahead, honor the deceased, and gather with the people who knew him or her best.
Please share your thoughts on this article
Related articles
Incoming search terms: