Rooms in a Traditional Funeral Home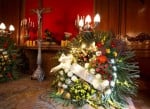 One thing that almost all funeral homes have in common is that they are large, elaborate structures built in the traditional style. From historic brick facades and marble pillars to classic Victorian décor, the funeral home setting is designed to provide comfort to the family as well as serve a functional purpose.
Most funeral homes are these large, mansion-like structures not to be awe-inspiring, but because it is necessary to have ample space for all the services and products offered here. In addition, older funeral homes might even have a living space upstairs for the family, since in the past, a funeral director always needed to be near his or her work.

While few people live upstairs of a funeral home anymore, most of the facilities have similar rooms and features. Although you probably won't get to see every room, here is what you can expect your chosen funeral home to have.
Arrangement Room: This room is used as a safe, quiet place where you and your family can talk with the funeral director to determine what kind of funeral plans you intend to make. Because this is such a private and personal thing to go through, most arrangement rooms are secluded from the rest of the rooms, and you are at liberty to use the facilities for as long as you need.
Display Room: One of the reasons funeral homes need to be spacious is because they typically have several caskets on display inside. The display room is a sort of showcase of everything the funeral home has to offer, ranging from caskets and urns to different types of liners. However, not everything for sale can fit inside here, so you'll usually find only the most expensive items. If you're hoping to cut back on funeral costs, ask to see a catalog instead.
Preparation Rooms: Chances are you'll never set foot in the preparation rooms or even see them. Usually housed in a separate facility or in the basement of the funeral home, this is where your loved one's body is prepared for burial. Depending on what services you choose, this may include embalming, hair and makeup, or other services.
Reposing Room: After the deceased has been prepared for burial, he or she is transferred to the reposing room, where the body rests until the funeral takes place. Some funeral homes also use this as a place for private body viewings before the memorial service.
Reception Rooms: Mot of your time will be spent in the reception rooms, since this is where you'll hold the memorial service. The best funeral homes offer rooms of varying sizes (depending on how many people plan on attending the service), and are wired for sound, audio-visual displays, and other traditional funeral customs.
Offices: Funeral homes are places of business, and there's quite a bit of work that goes on behind closed doors. Most of the offices are set back from the front area of the funeral home, so that you get all the ambiance of an elegant funeral home without having to deal with the sound of ringing phones in the background.
Some funeral homes have crematoriums on site, others are connected to a specific cemetery, and still others might adopt a more modern feeling and skip the traditional décor. If you're debating between a few funeral homes, ask to see the reception rooms, since this is where you'll spend the bulk of your time during the memorial service.
Please share your thoughts on this article
Related articles
Incoming search terms: