Selecting Grave Flowers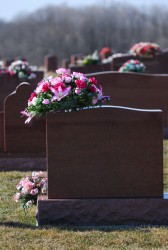 When it comes to funeral flowers, arrangements for the service itself tend to be the main focus. Casket flowers, wreaths in the shape of a circle or cross, and elaborate funeral sprays sent from relatives fill the mourning space with the fresh scent and sight of nature. However, these aren't the only funeral flowers to choose from. If your loved one opted for burial, you will also want to consider what type of flowers you want present at the cemetery and placed on the gravesite—both during the service and in the weeks, months, and years that follow.
Types of Grave Flowers
Because cemeteries tend to have strict beautification rules, grave flowers (or any type of decorative arrangement you put on a grave or near a headstone) come with greater restrictions than most other types of funeral flowers. Depending on where the deceased is buried and what kind of regulations are in place, you may be restricted to:
Artificial or silk grave flowers
Real cut flowers
Live plants (in a pot or other vessel)
Time limits on grave flowers
Holiday-only rules
No grave flowers at all
In most cases, these restrictions are clearly posted and strictly adhered to. Because a cemetery is a place shared by so many, it's important that you honor the grave flower rules and keep the area beautiful.
If your cemetery does allow grave flowers (or if you'll be putting up displays for the burial and taking them home later), you'll find several different options in grave flower arrangements. The most popular ones include:
Headstone sprays
Memorial wreaths
Vase bouquets
Floral bushes
Graveside crosses
These can typically be purchased from a florist who specializes in funeral flowers, or you can purchase them through the cemetery itself (during popular holidays like Memorial Day, this type of activity is usually encouraged). Those who have craft skills can also attempt to make their own arrangements and put them on display.

Grave Flower Maintenance
If you do put up grave flowers, be sure and visit back regularly to ensure that their appearance is kept up. Although many types of artificial grave flowers are designed to withstand the effects of the sun and rain, they don't last forever, and must be replaced as they fade.
Real plants also need regular upkeep. Cut flowers rarely last much longer than a few days at a time, and potted plants may need to be watered, re-potted, or moved as they grow.
Grave flowers add a nice touch to your loved one's burial site—as long as they meet restrictions and are properly maintained. If you'd like to dress up a headstone or otherwise pay your respects, sympathy flowers are an excellent and colorful way to do it.
Please share your thoughts on this article
Related articles