Funeral Fundraising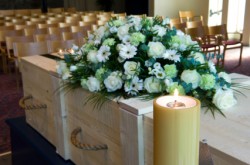 Whenever anyone talks about funeral costs or finding ways to finance a burial, the most commonly cited options include pre-planned funerals, funeral or life insurance, estate money, or even a private savings account. It has long been considered the responsibility of the deceased or the deceased's immediate family to cover all the funeral costs, regardless of how that affects personal finances.
While there is no denying that funeral costs should be covered by those closest to the deceased, this is not always a possibility. Whether due to personal circumstances, timing, or funeral plans that fell through, you may find yourself in need of additional funds. One such place to turn for help is through funeral fundraising.
What is Funeral Fundraising?

Whenever you solicit help from family members, friends, or the community in raising money for burial or cremation, you are undertaking a form of funeral fundraising. Fundraising can be an organized affair that pulls together resources from a large area or a simple act of asking for help when you need it most.
Asking for help with funeral costs can be tricky. Most people are happy to help out in any way they can, but planning an ornate funeral on someone else's dime can flare tempers in an already trying time. If you do solicit help, it's a good idea to follow a few general guidelines.
Consider "In Lieu of" Donations: Many people earmark money to send funeral flowers or another kind of sympathy gift. By indicating you would rather receive donations (to a personal memorial fund), you might be able to raise money without raising tempers.
Be Clear About Your Needs: If you do ask for "in lieu of" donations, be sure you are clear about the recipient of the money. It is never okay to let people think they are giving money to a charitable organization in the deceased's name only to use the money for the funeral.
Ask Family Members to Help Plan the Funeral: Oftentimes, those responsible for the funeral planning are the ones who cover the costs. By inviting a relative to participate in the planning, you may feel more comfortable approaching them for help with the financing.
Solicit Help from Religious and Social Organizations: Churches, synagogues, and community recreation centers or orders where the deceased spent considerable time are good places to look for help. Many times, they will have a fund earmarked for helping members pay for funerals. Other times, they may be able to put out a call for help. Of course, good manners indicate that you repay the favor by helping others when you are able.
Plan Small: If you do receive financial assistance from others, be sure to use the money wisely. Don't spend more than you need to on an ornate casket or prestigious burial plot. Keep things low-key and familiar during the memorial service. Doing anything flashy or showy with someone else's donation is rarely a good idea.
Above all else, be sure and extend a personal thank you to everyone who helps out. Funeral etiquette dictates that even in a time of intense grief, it's a good idea to think of others and embrace the community spirit that brings so many different people together in the act of saying farewell.
Please share your thoughts on this article
Related articles