Funeral Planning: Create a List of Contacts and Personal Information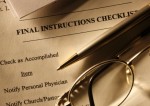 Some of the best (and lowest-cost) funeral planning efforts don't involve buying or arranging anything. In fact, before you do any concrete planning, it's a good idea to sit down and organize your fiscal and personal information so that everything you need is in one place. By taking an extra step to outline your funeral wishes and to provide a copy of this information to the individual who will be responsible for your estate after your death, you can save quite a bit of time and effort.
Personal Information
This sheet should contain all the basic facts about you and your history. This will be used to issue a death certificate and to help write an obituary.
Full Legal Name
Other/Maiden Names
Social Security Number
Date of Birth
City and State of Birth
Mother's Maiden Name
Father's Name
Marital Status/Spouse or Partner Name
Wedding Date and Place
Children's Names
Armed Forces History
Education
Driver's License Number
Passport Information
Funeral Plans
You don't have to pre-pay for a funeral or have concrete plans in place, but it is a good idea to outline your general wishes on paper. This will help your loved ones as they plan your funeral and move through grief.
People to Be Notified of Death (with Phone Numbers)
Pre-Plan Information (Including Funeral Home and Plan Documents, if Applicable)
List of People Responsible for Funeral Planning
Preferred Funeral Home
Preferred Interment Method
Clothing/Jewelry to Be Buried In
Ceremony Preferences
Funeral Officiant Name and Contact Info
Music/Reading Preferences
Key Contacts
Finalizing paperwork related to death and finances takes the combined efforts of many people. Keep this list to help your family know who to contact for help.

Executor to Your Estate
Lawyer
Accountant
Insurance Agent
Financial Broker/Advisor
Banker
Employer (Past and Present)
Union Representative
Landlord
Doctor(s)
Dentist
Insurance Information
Insurance is often cited as the most stressful thing to deal with after a loved one dies. Make it easier by providing the company, ID numbers, policy numbers, and contact information for the following insurance types.
Medical
Medicare/Medicaid
Life
Funeral
Annuity
Accidental Death & Dismemberment
Dental
Disability
Long Term Care
Homeowners
Automobile
Documentation
Keeping all your records in one place is a smart move no matter what. Go one step further and place these items in a fire-proof safe in case of emergency.
Will
Birth Certificate
Citizenship Certificate
Military Discharge
Diploma
Insurance Policies
Marriage Certificate
Divorce/Annulment Papers
Trust Documents
Property Deed
Vehicle Title
Passport
Social Security Card
Safe Deposit Box Key
Financial Information
Your financial information can include a number of accounts (both past and present). Because of the sensitive nature of this list, only share it with professionals and family members you trust, or keep it in a locked location in your home.
Safe Deposit Box
Savings Account
Checking Account
Money Market Account
ATM/Debit Card Information
Certificate of Deposit
IRA
Roth IRA
Brokerage Account
Mutual Fund Account
Company Pension
Union Pension
401(k)/403(b) Plan
Mortgage Information
Home Equity Line of Credit
Reverse Mortgage
Credit Cards
At first, these lists might seem overwhelming; after all, this is a lot of information to gather and keep in one place, and it can be especially hard if you're facing a terminal illness. However, having your records together like this is also helpful in everyday life (if you need to apply for a loan), and once everything is together, you only have to update the information every few years or so.
Please share your thoughts on this article
Related articles