Funeral Flowers on a Budget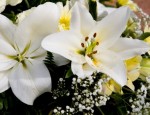 Sympathy flowers are a common part of funeral plans. From elaborate sprays that are used to decorate the memorial service to smaller bouquets that are placed on the casket as it is lowered into the ground, flowers have long held a place in funerals and in our hearts.
However, in today's economy, spending several hundred (or even thousands of) dollars on funeral flowers might not be a possibility. That doesn't mean you have to skimp on this important part of the funeral process—it just means you may have to spend a little more time searching for the perfect sympathy flower provider or come up with some budget-friendly alternatives.
The Problem with Cheap Funeral Flowers
When it comes to funeral planning, no one wants to buy anything that comes with the word "cheap." Cheap implies lower quality, or that you care less than you should about the deceased. Many funeral service providers know this and capitalize on it, which is why there are so many discussions about the way prices are sometimes inflated in the funeral industry.

Not all providers are like this, however, even when it comes to the floral side of things. If you talk with a florist about your budget and what you'd like to see happening for that cost, there's a good chance they will work with you to get the desired outcome.
How to Buy Funeral Flowers for Less
Most of the cost associated with funeral flowers has to do with the time period in which you need them (usually within one to two days), the cost of bringing out-of-season flowers into the United States, and keeping them fresh and preserved for the day of the funeral. If you'd like to save money, here are a few things you can do:
Opt for leafy fronds instead of flowers. Ferns and fillers can be just as beautiful as elaborate floral arrangements—and for less money. One or two vibrant blooms set against a green backdrop can be a great way to buy funeral flowers for less.
Shop at a grocery store or other retail provider. Most sympathy flowers come from professional florists, but this doesn't have to be the case. There is no reason why you can't go to a store and pick out (or even arrange) your own bouquets. This personal touch might even mean more in the long-term than simply putting down a credit card and choosing an arrangement out of a catalog.
Select flowers from your own garden. If the deceased was a gardener, you can also opt to choose blooms from his or her favorite garden. An elegant presentation can transform these garden buds into an incredible display.
Find online florists. Many online funeral flower providers offer discounted and competitive rates—and they work with local florists to ensure timely delivery. Spend a few hours looking over your options, and you might be able to cut your funeral flower budget in half.
Funeral plans don't have to put you in debt, and they don't have to be a struggle between what you want to do and what you feel tradition compels you to do. Funeral flower arrangements add a beautiful and personal touch no matter how they get there—or if they came from your own two hands.
Please share your thoughts on this article
Related articles
Incoming search terms: