Funeral Planning: Hiring a Funeral Musician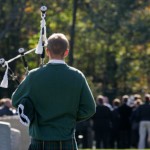 Almost all modern funeral services have some sort of musical component to them. Ranging from elaborate jazz funerals in the grand New Orleans tradition to simply playing a CD of favorite songs during the memorial service, music provides a great way to capture the mood of a funeral and help say many of the things it is too difficult to voice during the painful time of separation.
When it comes to funeral planning, it's important to remember that no two funerals are exactly alike. If you are considering your music choices, don't feel pressured to hire a professional singer or pianist unless it is something you feel strongly about. Music at a funeral doesn't have to be elaborate to be moving.
If you are considering funeral music as part of the service, here are a few common options:
Live Singing: Having vocalists sing at a funeral can be a very moving experience. Family members or friends might be willing to take on this role (though it can be overwhelming for them if they were close, so it's better not to ask unless they offer). Many people choose to hire outside singers, whether it is a gospel choir from their church or professional vocalists who specialize in funeral songs.

Piano: Hiring a professional piano or organ player for a funeral is a good way to capture the sentiment of music without making it overpowering. The background music of a few classical tunes can help set the mood as people enter the funeral home, pay their respects, and depart for the graveside service.
Musicians/Soloists: There are many types of instruments that are appropriate in a funeral setting. A cellist, violinist, or even a small string quartet can make a funeral feel both somber and ornate. Flutes, harps, and even folk instruments are also common choices at funerals and memorial services. Culturally-relevant instruments (like bagpipes) can also help you create a fitting farewell for your loved ones.
Bugle Players: For a military funeral, the bugle is the most common choice of musical goodbye. In many cases, the military will provide this professional to play taps, though you may also be able to hire your own if this option isn't available to you.
Most funeral directors recommend you stick with simple, straightforward songs that most people will recognize. Hymns, classical songs, and family favorites are all appropriate choices. If you had something grander or more upbeat in mind, don't be afraid to talk to the funeral home and your family members about your other options. Funeral plans are all about capturing the joy of life and of the deceased, and if that means bringing in a rock band to oversee the at-home memorial party, then that might be what is right for you.
Please share your thoughts on this article
Related articles
Incoming search terms: