"Green" Memorials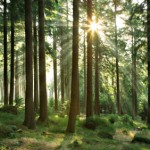 It doesn't matter whether you are planning a green funeral throughout every detail of the service, or if you'd simply like to incorporate a few eco-friendly burial arrangements as you go—funeral planning with an eye to saving the planet is a very popular choice right now. Not only is there the possibility of saving tens of thousands of dollars on funeral costs, but you can also give back to the earth in a positive and constructive way.
In addition to green burial options and funeral planning steps, you can opt for a green memorial. A green memorial is basically a formal commemoration that puts an emphasis on an eco-friendly outlook. Ideal for those who were passionate about the earth during their lives, or for those who want to incorporate something a little unusual for their own funeral pre-plans, here are a few of the top ideas:
Plant a Living Memorial
Most often a tree or rosebush, this options allows you to use a living plant to commemorate the loss of a loved one. Instead of a heavy monument made of stone or metal, you can mark a favorite place (or, in some cases, the burial ground) with a tree you plant yourself. Watching it grow and develop is a great way to take pride in the lives that have continued, and since trees can last for generations, it can be a reminder for the entire family for decades.
Some companies are talking this idea one step further by creating burial plots underneath an already- mature tree. In this process, the individual's body is cremated and placed in a biodegradable urn that is then planted underneath the tree's roots. The remains then become "one" with the trees, much like fertilizer or other rich soil might. (Note: The companies offering this service do so in accordance with local sanitation laws, and it should not be attempted at home.)

Biodegradable Urns
Biodegradable urns have other uses, as well. More and more manufacturers are coming up with urns that are specialized for areas in which ashes are often scattered. Ocean biodegradable urns made of sand and gelatin are built to float for a few moments before sinking through the water in a slow descent, and they will typically break apart within three days. Other ocean urns are made of materials like salt, and will dissolve within hours of being placed in the water. In both cases, it is necessary to follow federal guidelines on water "burials."
Eternal Reefs
Eternal reefs are a fairly new concept. They allow you to place the cremated remains of a loved one in a concrete mixture that will then be placed in an underwater habitat. The habitats are designed to foster the growth and development of sea life. In many cases, you can personalize your concrete "slab" with handprints, an ocean-friendly plaque, or by marking on a map where your loved one will be kept.
These types of memorials aren't for everyone—especially if you were planning on a traditional burial or a more formal ceremony. If you are interested in any of these burial options, it's best to contact the companies during your pre funeral planning stages, since you can make payment arrangements and even sign contracts stating your intent. There is perhaps no better way to celebrate life than to celebrate all the life here on earth—and green funerals make it possible.
Please share your thoughts on this article
Related articles