Mourning Whitney Houston and Other Public Figures
When the news of Whitney Houston's death became public on February 11, 2012, people of the world came together to share their shock and grief. Thanks to the prevalence of social media and how quickly information can be spread, the death of a high profile celebrity like Houston quickly takes the highlight as far as news goes, and the results can be seen in the outpouring of support for Houston's family members, friends, and the millions of fans whose lives she touched.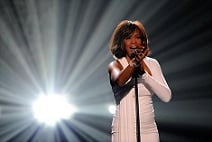 But in our digital age, what is the funeral etiquette for this kind of situation? Many of us want to participate in the celebration of Houston's life, but because Houston's family has made her funeral a private affair, it's impossible to show physical support. Even more importantly, we don't want to be a burden on a family already going through the worst situation.
How to Mourn Celebrities

In almost all cases, celebrity funerals are private affairs open only to close family members and friends. This isn't to keep the grieving public away, but rather to protect the family. For every truly compassionate person mourning a celebrity, there is usually another individual who wants to capitalize on the death or to make some kind of political statement.
That's why facilities like Whigham Funeral Home close their doors to public visits, funeral flowers, and things like sympathy cards. There are simply too many people who cared about Houston to make it possible to sort through the items and ensure the family remains safe and protected from malicious outsiders.

Whigham Funeral Home does not have an official website. However, iMortuary.com's Whigham Funeral Home page has a featured that allows you to leave a personal Memorial or Remembrance. Countless memorial websites and online tributes are also springing up, allowing you to show your support via online avenues.
Already, thousands of people have put up balloons and cards outside New Hope Baptist Church in New Jersey, where a young Houston once sang in the gospel choir. Sadly, there are reports of flowers being quickly stolen by passersby.
You can also make donations to causes that were important to Houston (or to you) in her name. These kinds of actions ensure that the legacy of her life will continue to provide positive changes in the world for decades to come.
Saying Goodbye to Houston

As a beloved R&B singer and actress, Whitney Houston was best known for her role in The Bodyguard and the accompanying single, "I Will Always Love You." She won a total of six Grammys and more than 400 additional awards throughout a career that spanned three decades.
Whether you grew up listening to her music, or if you share in the grief of any family that has struggled with the sudden and unexpected loss of a loved one, your support means so much. Finding appropriate ways to mourn Houston's death without putting an extra burden on Whigham Funeral Home or the family is your best way of giving back.
Houston's funeral is set for February 18, 2012 at New Hope Baptist Church and is by invitation-only.
Please share your thoughts on this article
Related articles
Incoming search terms: