Pet Memorial Gift Ideas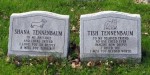 Memorial gifts are a common way of demonstrating your grief and supporting a family member or friend as they move through their grief. The practice of offering a memorial gift (such as funeral flowers or an engraved memento) is one that has been increasing in popularity—and for more than just our human friends.
Losing a Pet
The loss of a pet can be as devastating as the loss of a human being, especially if someone has had their feline or canine companion for decades. For some people, moving on is as simple as finding a new four-legged friend; for others, it may be impossible to ever get over the death of a pet.

Both of these types of situations are perfectly acceptable. Everyone grieves on their own timeline and everyone connects to animals in a different way. The best way for you to show support is to offer whatever comforts you can and to take this loss as seriously. A pet memorial can go a long way in demonstrating that you understand the severity of the loss.
Types of Pet Memorial Gifts
Engraved Gifts: Engraved gifts (such as a picture frame, jewelry box, or even a pet cremation urn) all provide an elegant way to show your respect. You can have the pet's name and important dates engraved on the item, or go one step further to include a poem or quote that has a personalized meaning for the newly bereaved.
Gift Baskets: As is the case when a relative or friend passes away, there is a period of grief that often makes it difficult to go through the necessary daily motions. A gift basket of soup mixes, fruit, or teas can really help the bereaved feel comforted—while also filling a practical need. You can also fill a basket with more personal items like engraved gifts, photographs, books, or movies.
Urn or Other Practical Burial Items: Pet funerals can be expensive—especially if there is a formal cremation (which might require a cremation urn) or a burial (which might require either a plot in a pet cemetery or a memorial or the yard). Purchasing an elegant urn or helping cover the costs of the funeral can demonstrate your understanding of the severity of the loss.
Memorial Garden Kit: Although there are legal restrictions that determine where and how a pet can be buried, many people do end up burying an animal in their backyard or on their land. A memorial garden at the site is a great way to memorialize the space on a budget. A kit that includes a garden stone, seeds, planting tools, or even a tree sapling can help them accomplish this.
The loss of a loved one is never easy, regardless of whether it is a person or an animal. Oftentimes, those grieving a pet need more support than you might normally offer because their loss may be felt by them alone.
Please share your thoughts on this article
Related articles