Travel Tips for the Newly Bereaved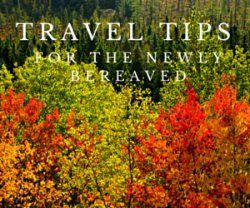 Traveling for the sole purpose of attending a funeral is never fun. In addition to the overwhelming feelings of sadness you may be dealing with, there are last-minute flights to arrange, rental cars to organize, hotels to book, and the actual flight to undergo. Although nothing can take away the pain of your loss, you can at least find ways to ease the burden of travel with these helpful tips.
Contact Individual Airlines. Not every airline offers bereavement rates, but many of them do have built-in specials if you recently lost an immediate member of your family (spouse, parent, child, sibling). You may have to show proof of death (a death certificate) in order to qualify, but you can also get squeezed onto a last-minute flight this way with up to 20% off the price of your ticket.

Pack Light. Most people who fly in for a funeral only stay for a few days, which means you might be able to get away with carry-on luggage only. This will reduce the amount of time you spend in the airport and ensure you don't lose your bags somewhere along the way.

Provide Entertainment. Splurge on a new book you've been wanting to read, load up your iPod with your favorite tunes, or carry extra cash to spend in an airport bar. No matter what your regular travel habits, now is the time to pamper yourself. Any positive distractions for the long flight will be well worth it.

Take a Friend. Depending on the severity of your loss, you may need support from someone you love and trust. If you have a friend who is able (and willing) to accompany you to the destination and help attend to details, take advantage of their offer.

Arrange for Pick Up at the Airport. Unless you're familiar with the city you're flying into, be sure and have a relative or friend come pick you up. Navigating a new place can be overwhelming when you're grieving, so having a friendly face to greet you and take you where you need to go can mean everything.

Don't Depend on the Family. The family of the deceased will have plenty to keep them busy as the funeral plans unfold, so do what you can to be self-sufficient during your stay. Accept help if it is offered, but try not to insert yourself into their grief.

Explore the City. Or Don't. It's impossible to look at travel for a funeral as a vacation, but that doesn't mean you can't take advantage of your destination. If you want to take in some tourist sites while you're here, do it. If you aren't up to the task, that's okay too. Do what feels right for you.
Travel for a funeral tends to be expensive and uncomfortable, but you can take steps to make the task more pleasant than the average business trip. Grab what small joys you can and take care of yourself first and foremost.
Please share your thoughts on this article
Related articles