What to Expect from Small Town Funeral Homes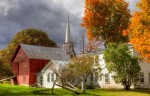 Funeral planning in a small town is a much different affair than funeral planning in a large city. Not only are you faced with fewer options when it comes to funeral homes, but privacy is often hard to come by. It can be very difficult to make decisions when you know the whole town is watching and expecting you to stick to tradition, and you might feel trapped into making choices you might not otherwise choose.
There are pros and cons to life in a small town, and funeral homes are a part of that. Depending on what you're looking for in a funeral planning provider, here are a few of the things you can expect.
Less Competition
In a big city, there are usually several different funeral homes for you to choose from. You can compare prices and services to find the one that you like best. In small towns, however, there's usually just one funeral home—and it's the same one people have been going to for decades. In most cases, the prices will be similar to industry standards, so you won't have to worry too much about being taken advantage of. If you're concerned, compare their General Price List (which they are legally obligated to provide) with other funeral homes. You can also opt to purchase a casket or other materials online and have them delivered.
Family-Owned Funeral Homes

Although it isn't always true, many small towns hold fast to their old traditions—including having family-owned and –operated businesses. You're more likely to find a funeral home that hasn't yet sold out to a corporate entity, and you also probably know the family who runs the facilities. This can be a great comfort if you're the type of person who wants to know the funeral director on a more personal level.
No Facilities in Town
Of course, not every small town has a funeral home nearby. Some are too small to support a funeral home, or may not have a cemetery within county lines. In most cases, support services will exist to make funeral planning easier over a long distance. The funeral director may be able to come to your home to show you your options and plan the funeral, or you may have to do a little driving. Because travel can be difficult during this time, this is one instance in which funeral pre-plans (with all the decisions already made for you) can make a big difference.
More Tradition
Small towns tend to be slower to adopt new technologies and modern practices, and the funeral industry is no different. Chances are you'll be more likely to stick to a formal burial in the local cemetery and have a potluck memorial service at town hall. There can be great comfort to be found in this type of scenario, but if you're looking for something more out-of-the-ordinary, you may need to have the remains transported to the nearest metropolitan center.
People in small towns tend to love the lifestyle there, complete with the focus on family and community—especially during times of grief. Funeral planning as a community can be a great comfort, but it can also come with drawbacks. If you or a loved one lives in a smaller area, plan ahead so that you have access to the funeral you really want.
Please share your thoughts on this article
Related articles