What Type of Sympathy Flower Display Should I Send?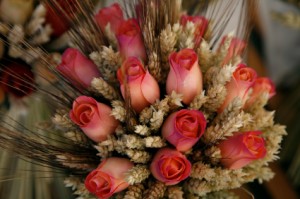 Once you've decided that you'd like to send funeral flowers to commemorate the passing of a loved one, you'll need to decide what type of spray or arrangement to choose. In addition to individual flower meaning, it's important to consider the uses and types of each type of bouquet. Some are designed to be placed on the casket (and are usually purchased by the family), while others are meant to stand around the casket during a memorial service. Depending on the type of service being held, you may find several types that suit your purpose.
Vase or Basket
The most common type of funeral flowers to be sent are those in a vase, basket, or other portable receptacle. Like the flowers often sent for a birthday or anniversary, these bouquets can range from simple to ornate, and are best displayed on a table. These can be send to the funeral home or directly to the family of the deceased, since they are elegant without being overwhelming.
Wreaths, Easels, and Standing Sprays
Many funerals and memorial services feature flower arrangements in the shape of a circle or as a cascade of flowers meant to hang down from a standing display. Additional options with religious connotations include flowers arranged in a cross or other symbol. If you'd like to make a contribution that will help add to the ambiance of the memorial service, these can be a generous way to do it.
Because the size and nature of these funeral flowers make them difficult to display at home, many families opt to donate these to local hospitals and nursing homes after the funeral—making them a lasting gift.
Casket Flowers

The decision to place a spray of flowers on the casket is one typically reserved for the closest members of the family. They will most likely select the colors and style (and you can send funeral flowers that match by contacting the funeral home ahead of time), as well as the size and how the display is set up.
Funeral Plants
Funeral plants (potted plants that can contain either a blooming flower or greenery) are a great way to honor the deceased in a way that is eco-friendly and long-term. Potted plants can be kept by the family, displayed at the gravesite, or re-planted for even longer-lasting advantages.
Choosing Funeral Flower Colors
In addition to the type of arrangement being sent, the color of the blooms can say something about your gift.
All white flowers can be an elegant way to signify your message of sympathy. Colorful pastel sprays add a positive touch to the funeral and help celebrate the life of the deceased. Springtime colors (pink, yellow, lavender) are popular options since they are pretty without being overwhelming. Brighter colors can also be a lovely contribution, especially if you are familiar with the deceased's favorite shades and can select according to their preferences.
Although black and muted grays are common funeral colors, they don't always make the best funeral flower choices. Before you send anything too heavy, be sure you check with the family or funeral home first.
Please share your thoughts on this article
Related articles