Why You Should Pre-Plan Your Funeral if You Want to Be Cremated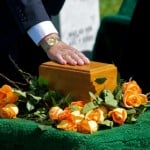 Funeral planning is one of the most personal and difficult things that anyone undertakes. It doesn't matter whether it's the funeral of a parent, a child, a brother, or a spouse—making the decisions that will lay your loved one to rest for all of eternity is something no one can be prepared to face.
Funeral traditions, those often somber practices that include ornate caskets, reverent music, and religious eulogies, exist to help those decisions become easier to make. There is a small measure of comfort to be derived from knowing that your loved one is following the same path that millions of people have traversed before.
This is why cremation or other alternative burial options can be so difficult for family members to accept. There is a time and place for deviating from the norm, but death rarely feels like the right one. After all, this is your only chance to plan the funeral correctly, and the decisions you make will last forever. Even when the deceased made his or her wishes clear, it can be difficult to fly in the face of tradition.
For example, a beloved mother might have indicated verbally that she wants minimal fuss and cost associated with her funeral. She might ask that she be cremated and scattered over her garden. Several family members may hear this wish and fully intend to comply with it.

After death occurs, however, it can be difficult to follow through with these plans. Perhaps another family member feels very strongly that burial is the only acceptable interment method, and cremation would interfere with his or her grief. Maybe the child to whom the mother indicated her wishes simply can't imagine placing her body inside a crematorium (whether for religious or personal reasons). When added to the already overwhelming grief of loss, this can create huge problems.
This type of situation is no one's fault. Death impacts everyone in a different way, and what might have seemed a reasonable request in life could become overwhelming after death occurs—especially if there is any contention in the family or the arrangements were only made verbally.
That's why most pre-planning funeral companies stress the importance of putting your advance plans in paper and paying for them ahead of time. While saving money is a key selling point, there is also the matter of your family to consider. When you make all the arrangements yourself (and when you tie the funds and your estate up so that they cannot change them), you are giving them a chance to simply grieve, free of the pressure of making a decision or agonizing over what you wanted and what their own worldview compels them to do. When advance plans are already set, your loved ones not responsible for the outcome or for any conflicts that arise—and this is an incredible gift for you to give.
While funeral pre-plans can (and should) be made for any type of plans you have, this is especially important if you intend to stray from the norm in any way. If you have ever considered cremation, a green burial, or even donating your body to science, it is in the best interest of your entire family to start planning now.
Please share your thoughts on this article
Related articles