Funeral Planning: Moments of Silence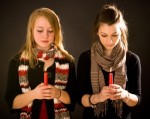 One of the memorial service options that appears in almost all funeral plans, regardless of religious or personal preference, is the moment of silence. Defined as a period of silent contemplation (ranging from one to ten minutes), this time is used for everything from personal reflection and prayer to meditation. In funeral planning, it can be part of the decision-making process, memorial service, burial, ash scattering, or any other ceremony that comes with emotional weightiness.
History of the Moment of Silence
Using a moment of quiet contemplation is common all over the world. It is used by government entities to show respect for a tragic historical event and by religious groups to take a moment to pray or mourn together. Schools, corporations, and other business entities might include a moment of silence when a member of their group is undergoing hardship.
Although the use of contemplative silence to mourn is probably as old as humans are, formalized silence became popular during the colonial period, when Pennsylvania Quaker and native Indian groups would gather. Instead of their traditional prayer, the Quakers used the silence as a way to respect the unique beliefs of the natives. It caught on as a way to allow for public observances without forcing any specific religion onto the population.

For the funeral industry, this is an important element to remember. Most of the time, funerals are religious in nature, and they draw from members of the clergy, passages from religious texts, religious songs, and eulogies in order to commemorate the deceased. However, even if religion was a big component of the deceased's life, that doesn't mean all mourners share in the same beliefs. Using silence is a great way to include everyone in the mourning process without pushing any religious agenda.
Where to Include a Moment of Silence
If you are in charge of planning the memorial service, you can include a moment of silence at one of several places in the ceremony. You can ask that people remove their hats and remain quiet:
As they view the body
During the ceremony—usually for one or two minutes after or before a prayer service
After music is played
As the body is lowered into the ground
When ashes are being scattered (or otherwise disposed of)
On special anniversaries or events
Other ceremonies that often accompany a moment of silence include those with heavy symbolism. You can release doves or balloons, toll bells, showcase a military salute, or even have a procession.
There is no right or wrong way to observe a moment of silence. As long as you don't pressure anyone to participate and allow everyone to use the time as they see fit, the silence can be used to facilitate the healing process. And for the newly bereaved, that's one of the best gifts you can offer.
Please share your thoughts on this article
Related articles