How to Write Your Own Obituary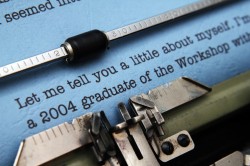 When it comes to funeral planning, some people prefer to have everything taken care of ahead of time. In addition to setting aside money for a funeral, this includes choosing things like caskets and headstones ahead of time. And if you really don't want to leave anything to chance, you can also write your own obituary.
After all, no one can sum up your life quite as well as you can. Awards and achievements—those things that look good on paper—might make for a nice newspaper article, but they rarely capture who you are as a person and what kind of message you want to leave behind. If writing your own obituary and placing it with your estate plans is something that appeals to you, here's how you can best go about it.
Get the facts first. No matter how creative or unique, all obituaries need to contain a few key facts. Your full name, date of birth, and where you live should all be included in the beginning. Because you won't be able to state the date of your death (or its cause), you may want to leave some space for a loved one to do it for you.
Make a list of your accomplishments, and write about the most important ones. These don't have to be official. While degrees and awards can be included, think of all the things you set out to do in your life and you accomplished. Maybe you climbed a mountain. Perhaps you ran that first marathon after ten years of training. It's possible that your children are your greatest legacy. No accomplishment is too small if it matters to you—and you might be surprised on looking back at your life what it is that makes you the most proud.
Include your hobbies. Most of us aren't defined by what we have to do to make ends meet—we're defined by what we choose to do in our spare time. Gardening, reading, writing poetry, playing video games…anything that brings you joy is worth adding.
Mention your family. If you're like most people, you're writing your obituary in advance to save your family the pain of coming up with the words on their own. Let this love comet through in your obituary. Mention those you will leave behind and how they have impacted your life.
Write out your wishes for the future. This is one of the really nice parts about writing your own obituary: you get to say a few last words. Whether it's as simple as asking for a donation in lieu of funeral flowers or a more detailed message about the mistakes you made and the choices you regret, feel free to speak from the heart.
Perhaps most importantly, remember that each word in an obituary costs money to print, so you'll want to set aside funds for its eventual publication. It's also a good idea to keep a copy of your obituary with the rest of your final papers so your family can easily find it.
Please share your thoughts on this article
Related articles