Five Funeral Trends for 2014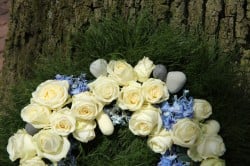 Like most traditions and ceremonial events, funeral planning changes over the years. Whether it's the annual increase in the number of cremations or the prevalence of "green funerals" that seek to reduce an impact on the environment, popular funeral trends have a way of sticking around. As we enter 2014, here are a few of the funeral planning trends and practices to expect in the coming year.
Customized Funeral Arrangements: While most of the traditions of funeral planning will stay in place, don't be surprised to find personal touches in the details. Colorful caskets, rock music that was enjoyed by the deceased during his/her life, family members speaking in place of clergy during the ceremony—all these things add a lighthearted touch without going overboard. And because these details rarely add to the funeral costs, they provide an economically viable way to make a funeral unique.
Audio-Visual Displays: Now that just about anyone can capture photos and videos on their phone, we have more footage to choose from. Instead of a picture board or photo slide show, more and more people are opting for elaborate audio-visual displays. Videos of the deceased that have been professionally edited, online postings, and even live streaming of the funeral are all increasingly popular options.
Fair, Third-Party Pricing: Funeral homes have been required to accept items like caskets purchased from a third-party retailer for years, but it's only now becoming more socially acceptable to incorporate this into the funeral. More families are choosing to buy caskets and other burial effects at places like Costco, which guarantees shipping and offers drastically reduced prices.
Biodegradable Burial Options: Our society has never been more focused on the environment, and this shows even in the death industry. Options in green funerals allow you to purchase naturally decaying shrouds, to forgo funeral flowers in lieu of charitable donations, and to skip embalming to avoid putting unnecessary chemicals into the ground.
Funeral Funding from Unlikely Places: Funerals are expensive, and will remain so for the foreseeable future. But that doesn't mean you have to strain to cover all the funeral expenses. In addition to crowdsource funding programs online, you can look into options in burial insurance, funeral co-ops, and funeral pre-plans that take all the guesswork out of paying for a funeral.
As technology increases and our discomfort with death decreases, these kinds of changes will only become more mainstream. While death and dying will always be difficult, funeral trends continue working hard to help families embrace the inevitable and find joy in what remains.
Please share your thoughts on this article
Related articles