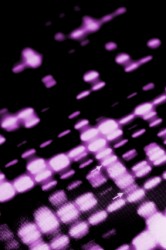 Giving a memorial gift is a great way to show a loved one how much you care about their loss and the difficulties they'll undergo in the months ahead. In addition to things like funeral flowers, people often choose pretty mementos like engraved plaques, ornamental urns, memory journals, or statuettes.
While of all these make appropriate presents, there isn't a whole lot of personalization involved. To find a truly one-of-a-kind memorial gift, you may want to get closer to the deceased. A lot closer. As close as his or her DNA.
DNA Artwork
DNA artwork bridges the scientific and artistic communities by creating large, visually appealing works of art that depend entirely on a person's unique DNA. Offered from several different companies and in several different formats, the most popular version on the market right now are the DNA Portraits offered by a company known as dna11.
The process is fairly complex and takes a while (usually around 6 weeks). You send in a DNA sample through their kit, their lab runs it through a special gel to find the unique code, and it is turned into a digitally-enhanced canvas picture.
Of course, when you're considering this for a deceased family member or friend, getting a DNA sample may not be that easy. Because the company prefers a cheek swab over something sloughed off (like hair in a brush or clipped fingernails), you may need to coordinate with the funeral home in order to get the sample taken.