Choosing a Funeral Florist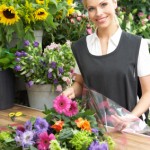 One big component of traditional funeral planning is finding a reputable florist that can provide all the funeral flowers for the memorial service and burial. Flowers add an elegant touch to almost any funeral, providing a way to incorporate color, meaning, and memories to the proceedings. Finding a florist prepared to meet all your needs while still honoring your family during this difficult time is important in keeping things running smoothly.
Although many people are opting out of traditional flower arrangements in favor of green funerals and as a way to put more money into a favorite charity or even the funeral itself, flowers remain an integral part of the mourning process for many families. If you're in the market for funeral flowers, you may want to consider a few key tips.
Buy local. Local florists are much more likely to have experience working with funeral homes in your area, and many of them have partnerships or even discounts already in place. Smaller, more family-oriented businesses like these ones are also more likely to add a quiet, personal touch to your experience, and they can help you make decisions while providing the support you need during this time.

Go through the funeral home. Although you might be able to save money by looking for your own funeral flower provider, many families choose to select their flower arrangements from the funeral home. Package deals, which contain everything from caskets to embalming options, often come with flower choices, and you can choose what you want from a catalog of options. There is a little bit less personalization this way, but it can save you a lot of time and trouble in making a decision – especially since everything will be ordered, delivered, and placed without you having to oversee it.

Search online. If saving money is something you're interested in, online funeral flower vendors might be the right choice. Online flower delivery companies typically offer "rush" orders that can meet all your funeral flower needs in a quick amount of time, and they often deliver directly to the funeral home to ensure that your level of worry is limited.

Know the fine print. Before you order funeral flowers from any provider, make sure you understand the exact scope of your purchase. Will you be required to pick them up yourself? Will the flower arrangements be completed and ready in time for the funeral services? Can family members, friends, and other people wishing to send sympathy flowers be granted a discount or time-sensitive service, as well? Don't be afraid to ask questions and shop around – especially if the flowers are going to be an important part of the service.
Of all the decisions you'll be required to make during the course of funeral planning, flowers are obviously not the most important ones. However, funeral flowers do provide a welcome bit of light, color, and tradition to many memorial services. If you do intend to honor these traditions, it's important to turn to someone you can trust.
Please share your thoughts on this article
Related articles