Funeral Services and Cemeteries in San Diego, CA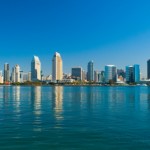 San Diego funeral homes are part of a long history of settlement and development in Southern California. In addition to a large military burial facility (due in large part to the prevalence of the U.S. Navy), there are several historical cemeteries that date back to the 1700s and 1800s, when Spanish settlers began making their mark.
Whether you're interested in the funeral history of the area, or if you're looking at more modern funeral options for the recent loss of a loved one, there are plenty of funeral homes and cemeteries to visit here.
El Campo Santo Cemetery
El Campo Santo Cemetery not only has the distinction of being the second oldest cemetery in San Diego (foundation date 1849), but it also has quite a reputation for ghost sightings. Most of these are attributed to a lack of respect for the long-since deceased. Because some of the graves were covered over by a 1942 city street, and others have been desecrated by vandals, it is believed that the spirits are restless.
While you may or may not believe in ghost stories, there is quite a bit of charm here, and there are sidewalk memorials for those who lie under the concrete.
El Camino Memorial Park
El Camino is relatively young in terms of cemetery age (origination date 1960), but the 220-acre memorial park is one of the more famous in terms of popularity and prestige. Here you'll find the family plot for the Kroc family (the founders of McDonald's) as well as a number of city and business leaders, politicians, and entertainers. You'll also find the grave of medical pioneer and polio vaccine creator Jonas Salk (1914-1995).

Fort Rosecrans National Cemetery
Fort Rosecrans National Cemetery is the largest military burial ground in the area, located just a few minutes west of the downtown city center. It has been in existence since the early years of the California Republic, and contains the remains of many war heroes who have fallen throughout the centuries.
In addition to historic figures, you'll find a number of Congressional Medal of Honor recipients and monuments to several foreign and world wars.
Other San Diego Cemeteries
Of course, not all San Diego funeral homes and cemeteries are affiliated with history or the military. There are a large number of facilities to assist the population, many of which are privately owned and operated. These include, but are not limited to, Cypress View Mausoleum, El Cajon Cemetery, Glen Abbey Memorial Park, Greenwood Memorial Park, Holy Cross Cemetery, Mount Hope Cemetery, and
Singing Hills Memorial Park.
These facilities are also equipped to provide additional funeral services like advance planning, sending funeral flowers to San Diego, and bereavement counseling and support.
Please share your thoughts on this article
Related articles