How to Plan a Post Funeral Gathering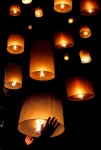 Whether your funeral planning efforts resulted in a traditional ceremony and burial, or if you opted for a private cremation scattering, it's a common practice to invite everyone in attendance to a post-funeral gathering. Also commonly known as the funeral reception, this event provides an opportunity for friends and family members to mourn the deceased (and to celebrate the life he or she had) in a setting that is less formal than a memorial service.
The responsibility for planning the funeral reception typically falls to the immediate family—more specifically, to the same individual who handles the bulk of the funeral plans. If this is too much of a responsibility, however, it might be a good idea to ask for help. Many people come forward to offer their assistance in the aftermath of a loss, and this is a good way to allow them to do their part.
Where to Hold the Funeral Reception?
There is quite a bit of variation in where a funeral reception can be held. Considerations to keep in mind include your budget, the amount of people in attendance, and whether or not you want this to be a formal affair. Common locations include:
Favorite restaurant/pub
Family home
Hotel reception room
Outdoor recreation area/park
Place of the deceased's work
Church hall
No matter where you hold the funeral reception, plan for some decorations and/or personalized touches. Photos of the deceased or his/her favorite objects to go on display, funeral flowers, a guest book for people to sign, and other effects can help dress up the event without appearing over-the-top or inappropriate.
When to Hold the Funeral Reception?

Although the most common choice is to hold the funeral reception immediately following the burial or memorial service (since all the family members and friends are already gathered in one location), there is no rule that says this must be so.
In fact, if a funeral is last-minute, or if it was restricted to immediate family members only, a funeral reception held at a later date can be a great way to plan an event with enough time and clarity of mind to do it the way you want. In addition, you can plan the funeral reception for a particularly important date—maybe to coincide with an upcoming anniversary, a favorite season, or even a sporting event that meant a lot to the deceased.
What to Serve at the Funeral Reception?
No matter where your funeral reception is held, it's customary to provide some kind of refreshments. Like a wedding reception, this can be as simple as a few bowls of nuts or as elaborate as a five-course meal. It all depends on your budget and how you want the event to proceed.
The most common option is to do things buffet-style. Again, most people love to be asked to help out during these difficult times, even if it's only to make a casserole to share with others. By allowing everyone to share the burden, you can reduce costs while bringing people together.
The decision of whether or not to serve alcohol is also a subject worth discussing with others. It's just as common to have a dry reception as it is to allow the spirits to flow freely—and as is the case with all facets of funeral planning, the decision rests with you.
Please share your thoughts on this article
Related articles