Green Funeral Options: Funeral Plants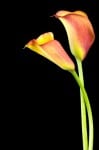 Funeral flowers are one of those things that almost everyone associates with the traditional funeral setting. From huge commemorative wreaths to the casket flowers that add a touch of color and brightness to a memorial service, many people find that sending sympathy flowers is a great way to show your love and help support the bereaving family.
However, with green funerals on the rise, it might not feel right to spend money on a display that will only last for a few days. While some families preserve funeral flowers or turn the blooms into potpourri, others end up throwing the decaying flowers out. That's why alternative funeral flower options like funeral plants exist.
What is a Funeral Plant?

Simply put, a funeral plant is a potted, thriving plant meant to take the place of traditional funeral flowers. Cut flowers can be difficult for those who are grieving because they, like the deceased, are soon to be a memory. Flowering plants, on the other hand, are much like a memorial tree, and can become a perpetual reminder that life goes on.
While you can send any type of potted plant as a sympathy gift, there are some types of plants that make for better funeral flowers than others.
Flowering Plants: Because most people prefer flowers (rather than a leafy fern) when it comes to funeral decorations, plants either in bloom or that will bloom soon tend to make better gifts. And a plant with a perennial flower makes a great funeral gift since the recipient can look forward to a new flower every year. (Lilies, traditionally associated with funerals, are one such flower. Orchids also make an excellent sympathy plant idea.)
Potted Plants: While any type of plant can work for sympathy purposes, we suggest an elegantly potted plant in keeping with the somberness of the day. If the deceased loved the outdoors or gardening, you can choose a large plant that can later be replanted in a favorite location; however, if space is limited, a smaller plant can provide a nice touch.
Good Packaging: One of the best ways to go about sending a funeral plant as a grand gesture is to have a florist do the arranging. As is the case with any type of sympathy flower gift they prepare, these professionals can provide ribbons, tissue paper, sympathy cards, and the other trappings of an appropriate gift. Delivery services can also ensure that your gift arrives in time for the funeral or memorial service.
Why Go Green?
Green funerals are part of a growing trend in the funeral industry toward more eco-friendly alternatives. Because the flower industry relies heavily on blooms delivered from South America, opting for a native plant (that won't die after a few days) is a great way to send your respects while also honoring a lifetime of giving and environmentally sound practices. Funeral plants are easy, elegant, and affordable—and they still send a message of hope to the bereaving family.
Please share your thoughts on this article
Related articles