Preserving Funeral Flowers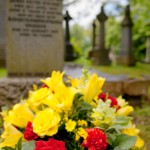 One of the most traditional and time-honored funeral customs is to send sympathy flowers to the newly bereaved. Whether these are sent to the funeral home for display during a memorial service or delivered right to the deceased's home as a way to show your support, funeral flowers have long been associated with comfort and bereavement.
Many of the sprays sent during this time have particular sentimental value. Perhaps they were the favorite flowers of the deceased, were sent by an important relative, or carry other personal meaning. They can also be elaborate and expensive, and therefore worth preserving. All of these contribute to a growing trend in the funeral planning community to save funeral flowers so that they can be displayed or placed in safekeeping.
The Art of Flower Preservation
Preserving flowers is a practice that goes back hundreds of years. Ranging from simple methods (like pressing a flower between the pages of a book) to more modern attempts that combine chemistry and technology, you can capture a memory in a flower and save it for future generations. This is common for bouquets used for proms and weddings, especially when a lot of care or cost has gone into the selection of the flowers. Sympathy flowers can also be preserved by these methods, and often serve as a great display piece with an urn or other memorial.
Do-it-Yourself Funeral Flower Preservation

If you like the look of dried flowers, you can preserve a funeral arrangement by traditional methods like air drying and hanging. This can be done by turning the flowers upside down and letting them rest in a dark, dry place until they become brittle to the touch—usually about one to two weeks. They can be displayed this way or used for other purposes (like keeping the petals for scrapbooks, potpourri, or display). Pressing flowers between the pages of a book or sand drying them are also possibilities.
Chemical methods you can do at home require the use of glycerine, silica gel, or antifreeze in order to keep the fresh flower look. These methods should only be done if you have the skills or knowledge to do it right, especially since funeral flowers for a beloved relative are a once-in-a-lifetime purchase.
Professional Funeral Flower Preservation
There are also several organizations that exist to help families preserve their flower arrangements. They typically adopt a process that extracts all the moisture from the flowers, which helps to keep their color and shape intact (this is important if the flowers are arranged in a cross or heart and you want to keep them that way). The flowers are then placed as an arrangement in a sealed frame or box, which allows them to be displayed and kept free from damage or decay.
Funeral flowers are one of the more beautiful funeral traditions in existence today, and it's always nice to keep memories going strong—especially in the aftermath of a devastating loss. Make arrangements to preserve your sympathy flowers either in advance or within three to five days following their arrival for the best results.
Please share your thoughts on this article
Related articles