Should I Hire a Funeral Planner?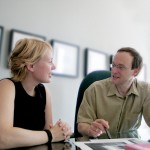 If you're like most people, funeral planning is not something you've ever had to do before. Unless the deceased took the steps necessary to pre-plan the entire funeral, chances are you will need to make decisions and coordinate services over a span of one or two days—and all while reeling from the emotional impact that death has on us all.
Most funeral homes and funeral directors are in business to provide the support you need to get all the funeral plans made. From choosing a casket to placing an obituary in the newspaper, these professionals will guide you through the process so that you are never at a loss for what to do next.
However, there are other options, as well. One growing trend in the funeral industry is to have a funeral planner or funeral consultant on hand to oversee the entire process. Much like a wedding planner, this individual can help you with considering your options, making decisions, and coordinating guests while you attend to more personal matters.
Benefits of a Funeral Planner
Many funeral consultants are part of the retirement community in your local area. These people work as a way to supplement their retirement income doing something that really matters to them: helping others. For this reason, you may be able to find a funeral planner for a relatively low cost (around $1,000 is average), and have access to a great partner in the process.
In some instances, funeral planners can save you money. If you don't already have a funeral home in mind, they can help direct you to one that provides the services you want at a lower cost than the competition. That's because a planner can do what you might be uncomfortable with: negotiating prices or shopping around to find the best deal.
It's not all about money, though. In many cases, a funeral consultant can help ease some of the burden of decision making. By contacting flower and catering vendors for you, organizing the memorial service, laying out your options, and reminding you of important details, you can reduce much of the stress associated with planning a funeral.

Why You May Not Need a Funeral Planner
Funeral planning is still as somewhat negligible title. Legally, these professionals cannot "arrange" a funeral for you, since only licensed funeral directors can take on that role. Planners can only provide support and make suggestions, which you will then have to arrange for yourself.
When you work with a funeral home you trust, the funeral planner's role becomes even more questionable, since funeral directors are, by definition, funeral planners who work within a specific funeral home. They have just as much (if not more) knowledge of your options than a funeral consultant, and can also help coordinate the events so that your burden isn't quite as heavy. Paying for a funeral planner may be adding unnecessary expenses to this process.
Funeral pre-plans also eliminate much of the need for a funeral consultant. If your loved one was careful enough to set aside funds, purchase a cemetery plot, or even choose the details of the funeral arrangements, much of the heavy lifting will already be done for you.
How to Find the Help You Need
If you find yourself facing the question of whether or not to hire outside help in planning a funeral, be sure and seek advice from people you trust. Church and religious officials, other families in your area, and even government services can help direct you to reliable funeral planning services. If you want the extra, personalized support, a funeral consultant might be a good fit; however, people have been planning funerals for decades through more traditional avenues.
Whatever you decide, it's important to remember that you aren't alone. Support services exist in virtually every city in the country, and the information you seek is only a phone call away.
Please share your thoughts on this article
Related articles
Incoming search terms: