The Funeral Industry in Bellevue: Funeral Homes and Cemeteries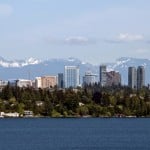 Bellevue funeral homes are a lot like the city itself and are ideal for funeral planning in Bellevue. Located across Lake Washington from Seattle and existing primarily as a satellite city to that metropolitan hub, Bellevue has all the benefits of a large and booming city, but with a smaller feel and a slower pace that many people prefer in the place they call home. For those seeking a much more permanent kind of residence, the appeal is the same. The large concentration of parks and the community focus on affluence, beauty, and upkeep mean that Bellevue cemeteries are among the most beautiful final resting places in the country.
Outdoor Spaces and Bellevue
Although Seattle itself has a large concentration of parks, Bellevue takes things one step further. Much of the land along Lake Washington is preserved for outdoor activities, and you'll find a number of parks just blocks form the city center. Among them are Mercer Slough Nature Park, Bridle Trails State Park, Chism Park, Kelsey Creek Park, and Woodridge Park. Just as many outdoor spaces are tucked into residential neighborhoods and even within the Bellevue cemeteries themselves.
Funeral homes in Bellevue make the most out of this community focus on the outdoors. Many of them are attached to their own cemeteries, which are kept up with regular care and maintenance. At the same time, because Bellevue is still relatively new as a metropolitan center, most of these cemeteries boast wide open spaces and plenty of room for development—perfect for those seeking a new family plot or prime burial real estate.

Attending a Funeral in Bellevue
One thing most people agree upon is that this city is first and foremost a business center. Bellevue has long been the place where new development and innovative businesses go, and this is evident in everything from the local infrastructure to the people.
You'll find that these sentiments are echoed in the funeral industry here. Bellevue obituaries often laud residents for their contributions to the town and their dedication to things like work, family, and the community as a whole. Those who want to send flowers to Bellevue funeral homes will find that they have many different options, and can choose displays that demonstrate just how affluent the lifestyle here can be.
You won't find many famous burials here, and the cemeteries tend to be newer, cleaner, and more
master-planned than those in the more historic Seattle district. But for the people who live and work
here, these are clear indications of the great lifestyle that moves so many away from Seattle and into
this award-winning city.
Please share your thoughts on this article
Related articles