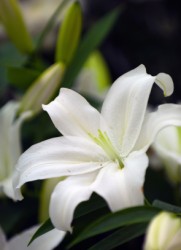 Sending funeral flowers is a great way to show your love and support for a loved one, but how do you find the right sympathy message for flowers? Is it better to go short and sweet, letting the blooms do the talking? Or is the time to pull out a lengthy quote or heartfelt letter?
Most people find that a line or two is sufficient to send along with the funeral flowers—especially since the florist-offered cards tend to be small and time is tight if you want the arrangement to arrive on time. If you'd like to send a follow-up letter with more in-depth sentiment, it's often best to wait a few weeks to gather your thoughts and compose the perfect letter.
Sympathy Card Messages
Most sympathy card messages are composed of a sentiment, a personal note, and a closing. Because you want to avoid making this about you (grief and bereavement are shared by all, but funeral flowers are meant to comfort the family), it's best to stick to something that expresses your shared loss but doesn't turn the spotlight back on yourself.