Choosing the Right Words for a Headstone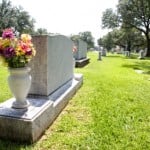 One of the most lasting pieces of funeral planning is the words on the headstone. Whether they are clever, meaningful, or just informational, it is these words that will embody the final message of the deceased at the cemetery. Because of this, it is important that the final arrangements made to theheadstone represent what the deceased and the deceased's loved ones want the world to remember.
Virtually all headstones have the deceased's name and the years of birth and death. Many modern stones also include the actual birth date and date of death as well. These decisions depend largely on how much space the headstone offers as well as the style of other commemorations at the cemetery.
Selecting an epitaph can be one of the most difficult parts of funeral planning after a loved one has died. It is important to think about what the deceased would have wanted to say. Did the deceased have a good sense of humor, or was he the serious type? Did she have words she lived by, words that would represent them well after burial arrangements have been made?
Many people find comfort in their religious beliefs, and it is very common to choose words for a headstone that represent that faith. Sometimes the funeral planning for the epitaph involves words of hope or of the afterlife. Other times, it may be an important passage that represents how the deceased lived their life.

Funeral planning can be quite difficult, and some people find comfort in selecting words of love or hope that are intended as a message to the deceased. You may choose to say how much your loved one meant to you or how wonderful he or she was to the family as part of the burial arrangements.
Our careers, hobbies, and interests are vital parts of who we are, and funeral planning can include these interests. Incorporating words about what the deceased did for a living, what his or her passions were, or the causes he or she volunteered for can be a beautiful way to remember a great life. Not only does it honor what the deceased found important, but it also shows visitors to the cemetery more of who your loved one was in life.
Occasionally, a person will work his or her own funeral plans into their estate planning. If this is something you choose, you can actually do some funeral pre planning by selecting the words you want for your ownheadstone. It may be funny or it may be formal, but it is important to bear in mind that people who love you will be visiting the site. As such, keeping the words respectful is important. Everyone loves a good joke, but if you choose one, be sure that it is in good taste.
Funeral planning is never easy, and finding the right words to use on a headstone can be difficult. By taking time to remember who the deceased was and what he or she meant to you, however, you are sure to find the right words to remember for all time.
Please share your thoughts on this article
Related articles
Incoming search terms: