Funeral Sermons: A Do-it-Yourself Project?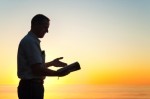 Who you ask to give a funeral sermon is one of the most important decisions you'll make during the funeral planning process. That's because so much more than the color of the casket or the types of funeral flowers on display, the sermon provides spiritual and emotional comfort to all those in attendance. Regardless of your religion or views on the afterworld, a moving sermon can help you come to terms with your grief and open you up to others who are in a similar state of shock.
How the Funeral Sermon Works
In most cases, a religious official is hired to oversee a memorial service, whether it is being held at the funeral home or in a place of worship. Like any religious ceremony, there is quite a bit of variation in how this is set up and organized, though most sermons include hymns, religious texts, prayers, and personalized messages that revolve around the life and contributions of the deceased.
Additionally, funeral sermons can vary in length. Short sermons allow for family members and friends to spend more time eulogizing or sharing personal memories, while longer sermons can turn into a full-fledged religious discussion about death, dying, and the afterworld.

There is no right or wrong way to have a sermon…anything that fits in with the beliefs of the deceased and brings comfort to the family is acceptable. That is why some people are looking beyond the traditional definition of a funeral sermon and finding ways to personalize the experience. In fact, one of the increasingly popular trends in the industry is for the deceased to write or even record his or her own funeral sermon in advance.
Writing Your Own Funeral Sermon
Religion and spiritual beliefs are incredibly personal things, and no one can put your viewpoint into words quite like yourself. That's why you can opt to write your own funeral sermon either as part of a funeral pre-plan package or if a recent terminal diagnosis promises to cut short your time on earth. Thanks to technological advances, you can even make an audio or video recording of this sermon, which can then be played at your funeral.
The primary benefit of this is to bring comfort to the family and friends you leave behind. When they can hear your own thoughts on death and dying, and how important it is for them to honor your legacy by living their own lives to the fullest, it can have a profound effect on the grieving. Many people will derive more comfort from knowing you were at peace with your death than if a religious official were to say the exact same things.
A video sermon also has the benefit of permanence. It can be posted on a memorial website or saved with the rest of the family keepsakes to be watched at a future date, whether to provide comfort or to share with future generations. And the best part is, they can be made at home for a fairly low cost. Some funeral planning companies also provide this (and other video) services, including photo montage clips and funeral websites.
Please share your thoughts on this article
Related articles