Planning a Funeral Using Local Vendors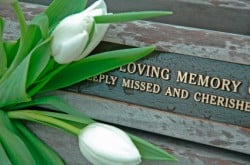 These days, funerals have become such grand, ornate affairs that it's almost impossible to know where all your products come from. Caskets may be shipped from a manufacturer in another state or even overseas. Flowers might come from Internet funeral florists or be sent up from as far away as South America. Even memorial videos are often outsourced to third party providers who are spread around the globe.
While there is nothing wrong with the globalization of the funeral industry (in fact, this kind of practice can substantially reduce funeral costs), some people prefer a smaller, more intimate service that draws from local vendors. If the deceased was a person who believed in supporting the community and taking things back to a more grassroots level, it might be a good idea to include many local and small businesses in the funeral plan.

How to Shop Local for Funerals
You'll want to find a funeral home that is smaller and privately owned. Funeral homes run by corporations are more likely to get all their products from a single retailer who distributes to their facilities all over the country. Look for family-operated funeral homes or ones that have a reputation for being part of the community for years.
Consider cremation versus burial. When you choose burial, you can buy caskets locally (usually from a green casket company, a carpenter, or even using a do-it-yourself casket guide), and have the body handled entirely by the funeral home of your choosing. If you plan a cremation, be sure and check out where the body is sent for the process. Most cities have crematoriums within them, though ownership might belong to a larger corporation. You'll also be able to look local for a cremation receptacle (boxes, urns, and other keepsake containers) more easily than you will a local casket.
Look into "green" florists. While all florists are arguably "green," not all of them run the same way. Many have their blooms (especially the more exotic ones) shipped up from South America or other tropical locations. Try to find one that grows their flowers in a greenhouse nearby or gets their supplies from local gardeners.
Ask for help with audio-visual services and printing. You'd be surprised how easy it is to create your own keepsake videos, photo slideshows, and even funeral programs. Modern technology has made it simple to do these types of things at home on your own computer—or you can ask a tech-savvy friend to help out. This also adds a much more personal touch than having someone else create them for you.
Keep Things Small and Intimate
While you can plan a big funeral and still keep things local, this sort of funeral planning lends itself to a smaller service with just a few close friends. It also lends itself to a green funeral that takes the environment into consideration.
In today's fast-paced, global world, it's easy to forget about the real traditions of funeral planning, when entire towns would come together to create fitting farewell for a beloved member of the community. Getting back to these roots and celebrating a life lived simply and with meaning is a great way to say goodbye.
Please share your thoughts on this article
Related articles