How to Have a Sea Burial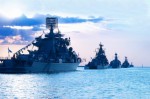 Although it might seem like an archaic practice to those accustomed to modern funeral planning, sea burials have long been an acceptable way to dispose of human remains. For some cultures, the act of returning the body to the sea is part of a long-standing relationship with the water and its life-giving properties. For others, it is a military honor bestowed on those who gave their life to service at sea.
In the United States, most sea burials are provided for members of the United States Navy (and their family members)—especially if death occurred during naval service. And while it's more expensive to undertake a sea burial if you aren't a member of the armed forces, there are additional options for civilians who want to make their final departure into the crashing blue waves.
Burial at Sea Program
In order to qualify for the Navy's Burial at Sea, individuals must have been a member of the uniformed services, a retired member/veteran with honorable discharge, a civilian marine personnel of the Military Sealift Command, or a dependent family member of the above.
Both cremated remains and bodies can be buried at sea, so you don't have to sacrifice your beliefs in order to take advantage of this program. However, family members are not allowed to attend the service (which is performed and planned by the Navy). Family provides the casket (a metal casket in accordance with Navy guidelines) and covers the cost of the body preparation and transportation, but once the body is delivered to the appropriate port in either Norfolk or San Diego, they are no longer allowed access.

A flag ceremony and gun salute often accompany this burial, and family members will get to keep the flag once it returns to port.
Alternate Sea Burial Options
Because family members often wish to be present at a sea burial, members of the navy (and civilians unaffiliated with the armed services) can choose a private sea burial option. These are almost always provided by a specialty organization that can get the proper permits via the Environmental Protection Agency and prepare the body in keeping with water burial standards.
In most cases, the regulations include a distance of at least three nautical miles from land and a depth of at least 600 feet. Because these conditions don't often go hand-in-hand, burial tends to be a lot further out. (Cremated remains only have to be three miles out—there are no depth requirements.)
Depending on location, the body may either need to be placed in a metal casket or an EPA-approved shroud. Flowers and floral wreaths can be placed in the water, as well, provided all parts will decompose in water.
Although it's not the most common choice, and it can be hard to gather a lot of people for a formal send off, burials at sea are a viable option for those who want their funeral plans to include the wide open waters of the ocean.
Please share your thoughts on this article
Related articles