Military Funerals and Burial Assistance for Veterans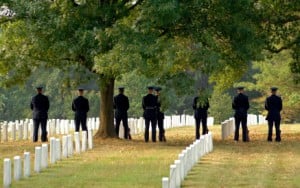 When you or a loved one serves as part of the United States Armed Services, there are certain death benefits and assistance you become eligible for. Navigating the system can be difficult if you're reeling from a sudden loss, and there may be certain funds that you have to seek out to receive, so it's a good idea to look into all your options. Any help you can get during this difficult time is worth considering—especially if your loved one served the country in any capacity.
As always, you can visit the U.S. Department of Veterans Affairs if you're uncertain about what types of benefits you can receive and how to apply for them. In addition to having local offices, you should be able to contact someone online to get the answers you seek.
Most funeral homes can also provide some guidance regarding military benefits. Because funeral directors often work with families of service members—up to and including coordinating with military cemeteries—they should be able to answer questions and direct you toward resources in your area.

Please share your thoughts on this article
Related articles