Military Funerals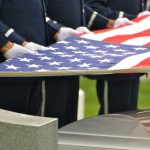 If you are planning a funeral either in advance or soon after the death of a family member, you may want to consider military funeral benefits. In some cases, you can receive financial assistance in covering funeral costs; in others, you may receive ceremonial privileges that will allow you to send your loved one off with the honor and respect achieved over a lifetime of hard work and devotion.
The traditional components of a military funeral—including the playing of Taps, a gunshot salute, a drumming corp, a flag ceremony, or even a procession of guards—range from simple to ostentatious, depending on the contributions of the individual to our country and how he or she wished to be honored in death.
Who is Eligible for a Military Funeral?
Not everyone who serves in the military is automatically granted a military funeral. In most cases, the requirements include someone who was:
• A war veteran (not dishonorably discharged)
• Killed in wartime efforts
• Under active duty in the U.S. Armed Forces (or Selected Reserve) at the time of death
• Able to complete a full term of enlisted duty during his or her life
• A serviceman or servicewoman discharged due to disability or injury in the line of duty

Additionally, the degree of the honors bestowed upon the deceased depends on the type and scope of military service rendered. Considerations that will impact what the deceased qualifies for include:
• Whether or not the individual was under active duty
• Whether or not the individual was retired from military service
• Whether or not the individual was a veteran
• The rank and/or occupation of the individual
Immediate family members—even if they didn't serve in the military—may also be eligible for some benefits. For example, they may be granted a chaplain and/or casket team for the service.
What Does a Military Funeral Include?
The most publicized military funerals usually take place at Arlington National Cemetery, complete with full military honors. However, these are costly affairs typically reserved for top-ranking officials. Most military funerals combine some portion of the following, and can take place at any of the veteran cemeteries around the country.
• A military chaplain
• A casket draped in the U.S. flag
• Honor guards serving as pallbearers
• Casket transportation
• Rifle party and a three-to seven-volley salute
• Playing of the Taps (via a lone bugler or recording)
• Final Salute
Higher-ranking officials might also be granted:
• Aerial flyover with fighter jets in missing man formation
• Riderless horse procession (to symbolize a fallen leader)
• Gun salutes of up to seventeen volleys
• Military band
• Escort platoon (from one or all branches of the Armed Forces)
If you aren't certain if you or a loved one is eligible for a military funeral, or if you'd like more information, please visit the Department of Veterans Affairs or the Military Funeral Honors website sponsored by the Department of Defense. These websites can offer support and resources for funeral
planning, regardless of what planning stage you're currently in.
Please share your thoughts on this article
Related articles