Tribute Videos and Funeral Planning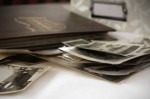 If you're planning the funeral of a loved one, you may come across a pamphlet or advertisement for a tribute video. Funeral videos are a way of creating an audio-visual tribute to the deceased through a series of photographs, images of favorite items, captions or titles, and music. Popular in recent years because of the blurring of the lines between the funeral industry and technology, video tributes are also a unique and beautiful way to provide a touch of personalization to the memorial service. For more in depth funeral planning guidance, download our guide "7 Insider Tips You Need to Know Before Funeral Planning"
What are Tribute Videos?
Tribute videos are a lot like sophisticated slideshows that can be copied and passed on to all those who want to take the memory home with them. They are usually played at the memorial service or other gathering in the days following death, providing a virtual trip through memory lane. One person can coordinate the entire effort or it can be collaborative, with everyone offering favorite photos for the video.

Video tributes can be made several different ways, including:
At home using a Photoshop-like software or through a specialty video software. Depending on how comfortable you are using this type of technology, you can do the entire thing yourself. For some people, the act of sorting through all the photographs and scanning them is cathartic; for others, it is too much to consider during the difficult grieving period.
Through the funeral home. More and more funeral homes are offering video options as part of their memorial packages. These have the benefit of being largely hands-off. You simply provide a stack of favorite photographs, make a few song and background picture selections, and let the funeral director and his or her team do the rest. They usually provide a copy of the slideshow for you to take home and may even host it on their website.
Via a third-party specialty provider. Some companies provide video tribute services to the newly bereaved via an online sales platform that you can access right from home. Others might be referred to you as a local company. These companies are prepared to help you sort through your images to find the best ones, and are able to meet the fast turnaround time necessary in the funeral industry.
Why Opt for a Tribute Video?
Tribute videos are a great way to memorialize the deceased while sharing some of the best times of your life together. The video can be played on a loop as people arrive for the visitation or service, or it can be played during a special five to ten minute window in the middle of the service. It can also be played quietly in the background at a larger gathering or even online at a memorial website.
For many people, the images in the pictures will bring back memories of shared moments; for others, the pictures will be new and provide more depth into the life of the deceased. Because you can usually take home extra copies of the video, this is also a way to safely share photographs without losing valuable negatives or original prints.
Please share your thoughts on this article
Related articles