Funeral Luncheon Etiquette and Advice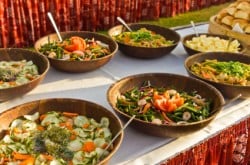 After the funeral planning has come to an end and the family gathers to say goodbye to the deceased, it's time for the funeral luncheon to start. Because most funerals take place during the morning (or in the early afternoon), it's common for the deceased's family to hold an informal luncheon afterward, in which guests can enjoy a light repast and share their grief.
Although this type of after-funeral memorial party isn't a required tradition, it's a good idea to brush up on your funeral lunch etiquette before you arrive.

Funeral Luncheon Etiquette Rules
Most funeral luncheons are open by invitation only. Although it's common for everyone in attendance at a funeral to be invited to the reception afterwards, this isn't a hard-and-fast rule (especially if there is a large number of mourners or if the death garnered public interest). If you don't receive a personal invitation, listen at the service. Most families will either announce or have the funeral official announce that everyone is invited to attend the funeral luncheon.
Talk to the funeral director if you are unsure about attendance. It can be awkward to directly approach the family to ask if you can attend, especially if they aren't opening the luncheon to everyone. If you are unsure, find either a funeral director, a funeral worker, or the officiant. He or she will either know the answer or be able to find out for you in a delicate way.
Be respectful. Any event that includes food and an informal gathering is going to be more relaxed than a funeral, and it's okay to loosen up a little bit at the luncheon. Talk to people, share stories of the deceased, even laugh a little. Just remember that you are still at a funeral, so keep off-color stories and loud behavior at home.
Turn off your cell phone and give your full attention. Treat the funeral luncheon as an extension of the funeral. Keep your funeral clothes on. Turn off your cell phone or other electronic device. Devote yourself to the task of remembering the deceased and enjoying the company.
Offer to help where you can. If you know the funeral luncheon is going to take place ahead of time, ask the family if they'd like you to bring a dish or plate of cookies. If it takes place in a private home, offer to help with dishes or packing up the food afterwards. Not everyone in attendance will need to help out, but it's always nice to offer.
Plan your dish accordingly. If you do bring a dish to share at the funeral luncheon, plan a little bit ahead. Drop it off at the luncheon site or at the family home ahead of time (it's never a good idea to bring food directly to the funeral). Provide it in a dish that can either be thrown away or that you won't need back immediately, and be sure to label it with masking tape or some other tag so the family can keep track of what needs to go where.
Eat. Nothing is worse than a funeral luncheon where no one eats out of fear of being disrespectful. Don't be afraid to enjoy the food and the company—that's what it's there for.
Don't linger too long. Unless you're helping clean up afterward, be sure and leave at the appropriate time. Although your attendance means a lot to the family, they will most likely need some private time to process all that has happened. When most guests appear to be departing, give your thanks and condolences and head home.
A funeral luncheon is more laid-back than a funeral, but it's still a good idea to behave appropriately and respect the family. A little funeral luncheon etiquette will go a long way in ensuring everyone is satisfied with the outcome.
Please share your thoughts on this article
Related articles
Incoming search terms: