Sympathy Gift Ideas: Funeral Quilt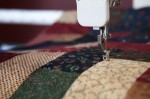 It's becoming increasingly more common for families to take comfort during the funeral planning process with unique gifts and tributes. While many people still hold fast to funeral traditions, there is something to be said for receiving a unique, personalized sympathy gift that honors the deceased. Providing comfort during what is unarguably one of the most difficult times, funeral quilts and blankets are a great new option on the funeral gift market and for use as a memorial service display.
Funeral Quilts
Funeral quilts are often hand-sewn (either by the deceased while living or by a family member in the days following death). These quilts can be made of the deceased's favorite clothes or simply with the design and fabric that calls to mind the deceased's personality and interests.
Not just for quilters, this kind of sympathy gift is one that won't soon be forgotten. It can be hung in a family member's home or even used as a quilt for a bed or daily use. In fact, some people find profound comfort in snuggling under warm layers that remind them of those they have loved and lost.
These types of funeral gifts have long been in use in military circles in the form of Home of the Brave Quilts, which are part of a national project to provide the families of fallen heroes with a token of appreciation. This practice has been in existence since the Civil War, and the blankets have been handmade by quilters from around the country for over a hundred years.

Tribute Blankets
A tribute blanket differs from a funeral quilt in that it is usually a mechanically embroidered blanket with an image or quote for display. Thanks to technology in blanket manufacturing, almost any regular photograph can be scanned and made into a woven fabric (and on a time crunch), which means that you can take a favorite family portrait and transform it into a tribute blanket. These items tend to become instant family heirlooms, and can be put on display at the memorial service and then taken home once the service is over.
Not all tribute blankets have to contain a photograph. You can also purchase blankets with memorable quotes or Biblical passages. If there will be more than one family member hoping to take these commemorative items home, it may be wise to purchase additional ones to send with those in need.
Small Comforts for Large Losses
A blanket or quilt isn't going to make up for the loss of a loved one, but it's a good start. If you don't like the idea of sending the traditional funeral flower arrangement, or if you're looking for a unique and eco-friendly way to show your support, a funeral quilt could be the right fit. Look for them at online providers or from select funeral homes participating in tribute blanket programs.
Please share your thoughts on this article
Related articles