How Celebrity Deaths Affect Us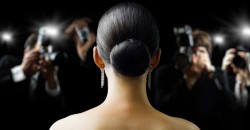 Nothing arouses curiosity quite like a death—and a celebrity's death is cause for even more speculation. In addition to questions about how and why a beloved media icon passed on, we often find ourselves questioning our own emotional responses.
"I didn't know this person, so why does his/her death affect me so deeply?"
"I grew up watching this person on television, and now it feels almost as though I lost an old friend. How can I cope?"
"I want to pay my respects, but I don't know the deceased personally. Can I visit the gravesite?"
Celebrity deaths have a way of forcing us to question our own mortality and to put things into perspective. Since coping with any kind of death is something no one should make light of, we've put together this guide of how to approach the loss of a celebrity with respect, consideration, and, yes, even a little curiosity.
Celebrity Death Etiquette
You may find yourself wishing to attend a celebrity funeral in person. Most of the time, these types of services are closed to the public, but there could be a memorial or other event you can check out.
Highly public deaths like those of Whitney Houston and Philip Seymour Hoffman tend to hit us fairly hard. It's okay to mourn, but not to intrude on a family's private grief.
Paying Respects to Historical Figures

Not all the celebrities that tug our heartstrings are modern ones. It's common for people to also feel a kinship to writers, historians, public figures, politicians, and war veterans from centuries past. Even though the deceased's family may be long gone, there are still funeral etiquette guidelines for how to pay your respects with respect.
Interested in learning where to find famous headstones or family graves? Here's an overview of popular grave finding websites.
Getting the Help You Need
While the loss of a celebrity isn't the same as losing a loved one, there are still emotional ramifications to consider. Always talk to your doctor or someone in the grief industry if you feel overwhelmed by the feelings caused by any death—no matter how close the deceased was to you during his or her lifetime.
Please share your thoughts on this article
Related articles